Join Western Nations and Co-op's Indigenous Gas Bar Program
January 18, 2021
Through the Indigenous Gas Bar Program, Co-op is working to develop mutually beneficial relationships built on shared values – which includes supporting strong, vibrant communities.
Co-op supplies and supports independent gas bars in Indigenous communities across Western Canada and manages the new Western Nations brand.
---
Western Nations
Western Nations is a growing network of independent, locally owned Indigenous gas bars. Developed in consultation with Indigenous groups, Western Nations is a modern and unique brand, relevant to all customers and respectful of Indigenous culture.
How does it work? Western Nations is a brand that can be applied to existing gas bars that qualify or new locations being developed in Indigenous communities. Like a franchise, Indigenous communities own and operate their own locations, using the brand to attract customers and being supplied and supported by Co-op. Western Nations isn't a co-operative or require becoming a co-operative member of a local Co-op or Federated Co-operatives Limited.
Program Benefits
Facility Design Program: Co-op can assist or work with you to help plan and build your location, including convenience store offerings, through pre-existing designs – with the flexibility to customize designs to your community's needs.
Brand Association: Western Nations Gas Bars are Fuelled by Co-op, a heritage brand with high-quality products that communities across Western Canada have trusted for generations.
Uniform Program: Co-op will provide help supplying and funding team member uniforms.
Management Assistance: Local Co-ops may be able to provide additional support in the management of your operation.
Community Building Assistance Program
Community support is an important value of local Co-ops across Western Canada. Because of this, we'll provide funding to participating Indigenous communities. Communities will direct the funding where it's needed within three categories: community infrastructure, programming and/or events. The amount to be allocated is based on fuel sales.
Other program benefits:
Competitive grants to enhance and upgrade appearance and equipment
Competitive fuel margins
Attractive debit and credit card fees
Comprehensive offering of high-quality products, including gas, diesel, propane, lubricants, convenience store items and car wash products.
Co-op Fuels – including Top Tier™ certified gasoline – are trusted, reliable and manufactured at the Co-op Refinery Complex in Regina, Sask.
Promotion and maintenance assistance
The Western Nations brand can be applied to existing locations or new construction. There are minimum volume requirements to be eligible and there is the ongoing requirement for facilities to be well-maintained.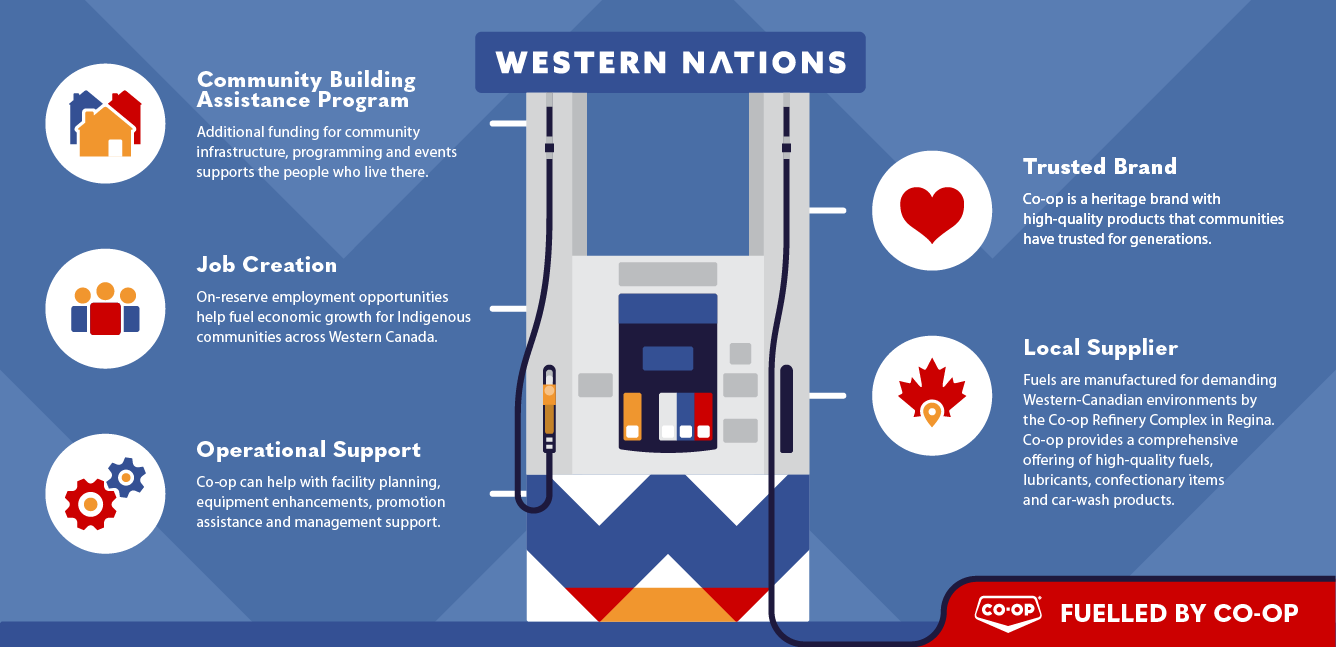 Western Nations vs. Indigenous Reseller
Communities that already operate under their own brand, or don't qualify for Western Nations, can still participate in Co-op's Indigenous Gas Bar Program as an Indigenous reseller. You will still be eligible for many of the program benefits, including the Community Building Assistance Program.
---
Contact
To learn more about Co-op's Indigenous Gas Bar Program, contact the administration office for the local Co-op association nearest you or e-mail westernnations@fcl.crs.