Retail co-ops respond to Fort McMurray evacuation
May 6, 2016
Co-op members and customers are helping retail co-ops answer the call for wildfire relief.
At the Co-op Food Store in Plamondon, Alta., they're even stocking shelves.
The small community has seen an influx of traffic as evacuees travel south. Earlier this week, community volunteers pitched in to keep the store open around the clock, helping to provide important supplies and services to those in need.
Community effort
Across the region, people have worked together to serve evacuees and deliver fuel to those stranded on the road.
In nearby Boyle, Alta., North Corridor Co-op has kept its gas bar open, extending its hours and serving free coffee. Co-ops throughout the region have also been busy delivering fuel to local Tempos to keep them from running out.
Federated Co-operatives Limited's Edmonton Region Office has sent employees to the area to help Plamondon and North Corridor Co-ops respond to the demand.
"My team and our relatives from The Grocery People have been working hard with suppliers to get stock into these stores," said Bob Thurstan, Food Marketing Manager in FCL's Edmonton Region. "Nobody is saying, 'It can't be done.' Everyone is saying, 'What needs to be done?' "
Co-ops collecting donations
Further south, St. Paul Co-op is sending its Co-op Community Connector — a trailer that includes a mobile kitchen — to Lac la Biche to provide meals for Fort McMurray residents. In addition to donating two cents per litre of fuel sold, the co-op is also collecting donations from customers, which it will match up to a total of $5,000, in support of the Canadian Red Cross.
Other retail co-ops supporting relief efforts:
North Central Co-op is collecting donations for the Edmonton Emergency Relief Services Society.
Sherwood Co-op donated $2,500 to the Red Cross.
Prince Albert Co-op donated $5,000 to the Red Cross.
Saskatoon Co-op donated $5,000 to the Red Cross.
Vanderhoof Co-op donated 792 litres of fuel and is matching donations it collects.
New Horizon Co-op is donating $2 from the sale of heart-shaped cakes to the Red Cross.
Lloydminster & District Co-op held a barbecue and is collecting donations.
Riverbend Co-op is hosting a pancake breakfast.
Calgary, Leduc, Pembina West, Otter, Wildrose and Yukon Co-ops are collecting donations for the Red Cross.
Long-term commitments
On behalf of the more than 200 retail co-ops in the Co-operative Retailing System, FCL is donating $100,000 to support the Canadian Red Cross's wildfire relief efforts in Alberta.
The donation is part of a $1 million commitment supporting Red Cross activities across Western Canada.
In 2015, FCL's donation helped the Canadian Red Cross respond to wildfires in northern Saskatchewan. To see how FCL and CRS employees responded to that event, see the video below.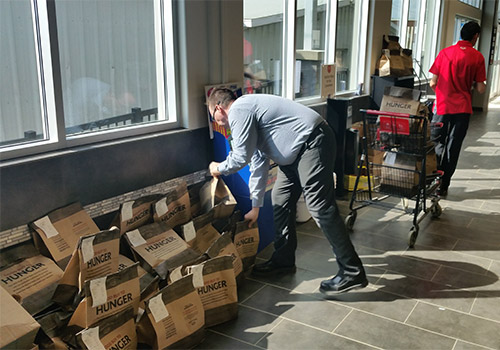 Co-op employees and community volunteers prepared supplies for evacuees at the Co-op Food Store in Plamondon, Alta.