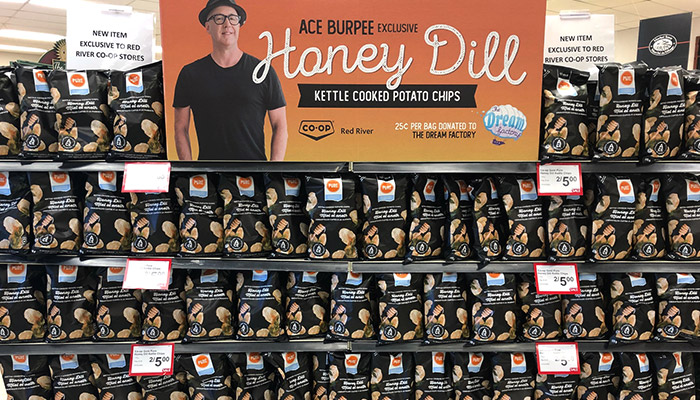 New chips feature a favourite Manitoba flavour
August 20, 2019
A dipping sauce unique to Manitoba is becoming a new chip flavour from Federated Co-operatives Limited (FCL) and Red River Co-op.
Honey-dill-flavoured CO-OP GOLD PURE® Kettle-Cooked Chips became available Aug. 19 at Red River Co-op locations in Winnipeg and area.
"As a local co-operative, we loved the idea of offering a quintessential Manitoban flavour as a chip to our customers and members," Kelly Romas, Red River Co-operative's Director of Marketing, told the Winnipeg Free Press.
The idea came from radio DJ Ace Burpee, who discussed the flavour on his Winnipeg morning show and then contacted Red River Co-op about producing the chips.
Kelly reached out to Sav Bellissimo, FCL's Store Brands Manager, and the group began developing the savoury flavour with our New Brunswick supplier. About 18 months later, the small-batch production run of the honey-dill chips are available exclusively at Red River Co-op's seven food stores and 30 participating gas bars.
Red River Co-op is donating 25 cents to the Dream Factory. Selected by Burpee, the charity fulfills the dreams of local children battling life-threatening illnesses.
"At The Dream Factory, we encourage kids to dream big and it's our job to bring those dreams to life," said Executive Director Howard Koks. "Honey-dill flavoured chips are a fun dream come true for many Manitobans, and we couldn't be more excited and appreciative that proceeds raised will directly help to grant more dreams for kids here in our province."
The chips will be made available at participating Co-op locations across Western Canada next year.