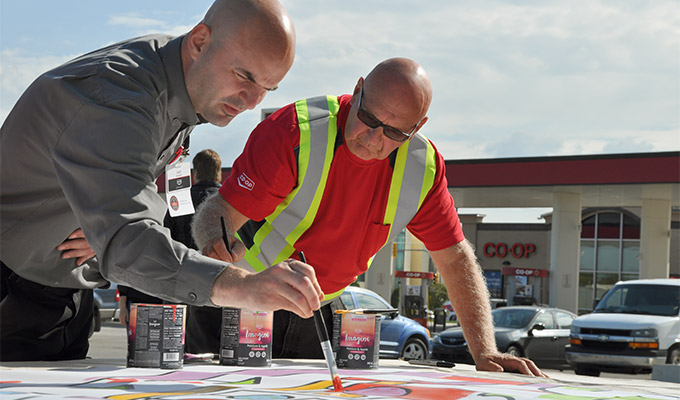 Co-op helps bring the colour back to Fort Mac
June 27, 2016
The effort to help Fort McMurray residents rebuild their homes and community received a colourful boost from Co-op today. Federated Co-operatives Limited (FCL) donated 400 cans of paint to restore buildings that were damaged or are being rebuilt.
"Co-op is fundamentally committed to serving and caring for western Canadian communities—it's part of our identity," said Ron Healey, Associate Vice-President Ag and Home. "We're glad that we can play a small part in helping Fort McMurray, a community in need right now, with resources and encouragement so that it can thrive again."
The donation was made at the Saskatoon Co-op Home Centre on Circle Drive. To celebrate the donation, representatives from FCL, Saskatoon Co-op and the mayor of Saskatoon began painting a mural and writing messages of encouragement to Fort McMurray. Saskatoon residents are being invited to help paint the mural and send their own messages throughout the week.
"Most people in Western Canada have a connection with Fort McMurray through friends or family. I believe we are all looking for an opportunity to provide support to that community," said Grant Wicks, General Manager of Saskatoon Co-op.
The mural and messages will be applied to the semi trailer that delivers the paint donation. The semi trailer will also make stops at Co-op home centres in North Battleford, Sask., Stony Plain, Alta. and St. Paul, Alta., this summer. Residents of those communities will be able to complete the painting and send messages from their communities to Fort McMurray.
This is the first donation made from the new Co-op Communities in Full Colour program. Through this program, more than $400,000 worth of Co-op Imagine paint will be donated annually to community projects. Local community groups can apply for a paint donation at their local Co-op home centre.
This initiative for Fort McMurray is the latest in a series that co-ops, members and customers have made to culminate in more than $750,000 for the relief and rebuilding effort. Co-op members and customers have donated more than $400,000 at their local co-ops to the Red Cross efforts. Local retail co-ops across Western Canada have given more than $160,000. FCL has also provided $100,000 directly to the Red Cross relief efforts in Fort McMurray and had previously dedicated another $100,000 to the Red Cross as part of an ongoing agreement to annually pre-position funds and supplies in preparation for emergencies in Western Canada.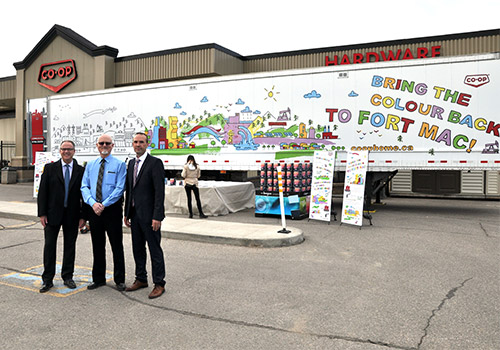 From left, Tony Steier, FCL's Director Home and Building Supplies, Grant Wicks, General Manager of Saskatoon Co-op, and Ron Healey, FCL's Associate Vice-President Ag and Home, announced the donation of 400 cans of paint on June 27. The donation will help restore buildings in Fort McMurray, Alta., and will be delivered with a mural and messages of encouragement.