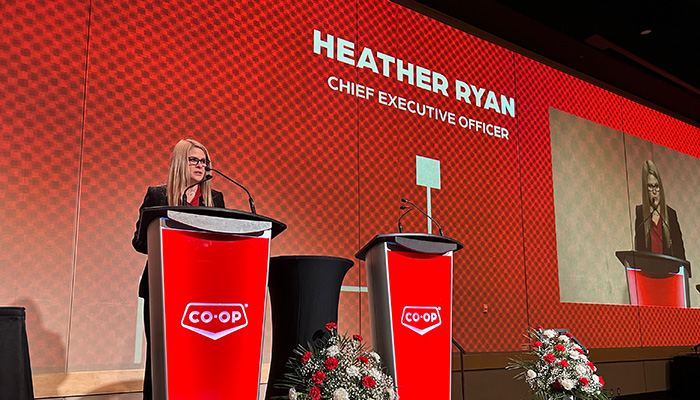 Strong results for FCL in 2022
February 27, 2023
Today, delegates representing local co-operative associations from across Western Canada attended Federated Co-operatives Limited's (FCL) 94th Annual Meeting. Together, they reviewed the 2022 financial results, discussed the Co-operative Retailing System's future, and elected FCL's Board of Directors.
It was also an opportunity for Heather Ryan to address the delegation for the first time as CEO, speaking about FCL's commitment to local Co-ops, now and in the future.
"This year we worked to continue to meet the needs of our Co-op members, enhance their member experience, and position our organization for the future," said Ryan. "For example, finalizing the acquisition of 171 Husky retail sites allows us to serve new communities and acquire new Co-op members, while investments in renewable fuels, agriculture and carbon capture represents our continued commitment to a sustainable tomorrow."
FCL had a strong financial year in 2022. As an organization, FCL experienced sales growth in many areas, resulting in overall sales of $12.5 billion, a 38 per cent increase from $9.1 billion in 2021. Net earnings for the year totaled $411 million, allowing FCL to return a $348 million patronage allocation to local Co-ops.
"Together, we will continue to deliver for Co-op members, and we will continue to build on the legacy we have created over the past 94 years because we are a different kind of business – we are Co-op," said Ryan.
The contributions FCL makes to local Co-op owners supports their business and further enables them to invest in their facilities and communities. FCL is proud of the economic engine Co-op represents for Western Canada.
FCL's 2022 annual report, financials and highlights can be viewed at www.fcl.crs/annual-report.
Fast Facts
$12.5 billion in sales in 2022
$411 million in net earnings
$348 million patronage allocation to local Co-ops
2 million plus Co-op members across Western Canada