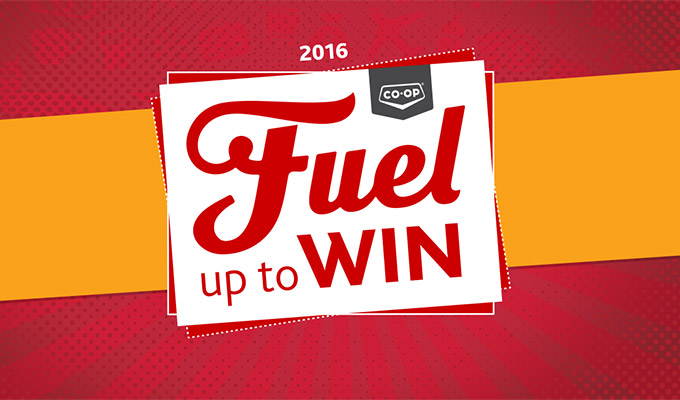 Fuel up to Win more than $8 million in prizes and discounts
February 26, 2016
Co-op's Fuel up to Win is back for another season full of surprises.
More than $8 million in prizes and discounts are available in this year's contest, including a new grand prize that will award $100,000 to the winner along with a $25,000 donation to his or her community.
From Feb. 26 to April 21, 2016, Co-op customers will receive a Fuel Up to Win game ticket with every qualified purchase at participating CO-OP Food Stores, Convenience Stores/Gas Bars and Home Centres.
With every game ticket, there are three ways to win:
Instant win: Open your game ticket for a one-in-six chance to win a prize or discount.
Online win: Register online and enter the PIN on your game ticket to be entered into the prize draw or use the CO-OP app to log in and scan the PIN.
Collect to win: Pick up a Collector Card at participating Co-op locations and apply the stickers from your game ticket. Complete the Collector Card to win. Use any of your duplicate stickers in our Double Up Sweepstakes inside your Co-op store!
Big prizes
By playing the collect-to-win game, Co-op customers have a chance to win the $100,00 cash prize or one of more than 50 packages providing free groceries or gas for a year.
This year's contest also features new Double Up Sweepstakes and online game prizes, which include a:
Montreal Grand Prix getaway

Dale MacKay culinary experience

Home renovation package

2016 Ford F150 or $35,000 cash
Full details about the contest and how you can participate are available at fueluptowin.ca. Visit regularly for updates on winners!