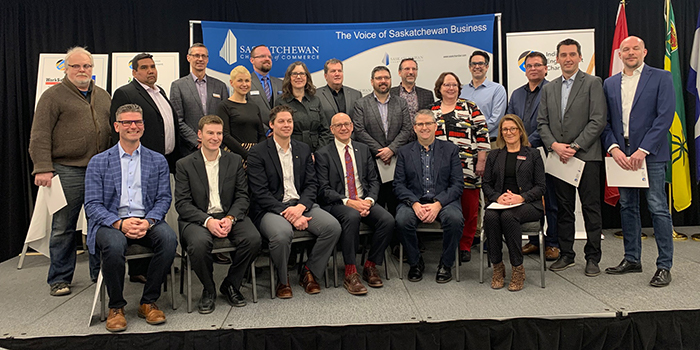 FCL Signs Indigenous Engagement Charter, Demonstrates Commitment to Reconciliation
January 22, 2020
Federated Co-operatives Limited (FCL) is proud to be among the first businesses to sign the Saskatchewan Chamber of Commerce Indigenous Engagement Charter.
The Charter has been developed with expertise and cultural sensitivity to support the important work and calls to action put forth by the Truth and Reconciliation Commission in 2015. It aims to bring Saskatchewan's Indigenous population to the same economic level as the broader population by enhancing engagement from the business community.
As one of the largest businesses in the province, FCL knows that engaging the youngest and fastest-growing population in Saskatchewan is a significant opportunity.
"By signing the Indigenous Engagement Charter, we're reinforcing our commitment to enhancing our relationships with Indigenous communities in Saskatchewan and across Western Canada," said FCL CEO Scott Banda. "We know there is a lot to be gained from working with First Nations and Métis people and organizations, and we welcome the opportunity to learn from our peers in the business community."
We are striving to improve our employees' understanding of Indigenous culture and history by offering awareness training programs and encouraging participation in events such as the annual Rock Your Roots Walk for Reconciliation. In 2017, FCL committed $1 million to Wanuskewin Heritage Park in support of the Thundering Ahead Capital Campaign, further highlighting our dedication to better understanding of Indigenous history.
Signing onto the Charter provides FCL access to more tools and resources to enhance our existing Indigenous engagement efforts and develop new programs.
"This is a valuable step in the continued development of FCL's Indigenous engagement efforts," said FCL Indigenous Engagement Manager Alison Auramenko. "I'm excited for this work, developing and implementing a strategy that engages meaningfully with Indigenous communities and organizations for the betterment of us all."
FCL also understands the value presented by working with Indigenous-owned businesses and First Nations communities. As long-time fuel suppliers to several First Nations in Western Canada, we saw an opportunity to work with these groups to develop a unique gas bar brand that speaks to their special interests and values.
As the primary investor in Co-operatives First, we have encouraged its mandate to promote co-operative business development in Indigenous and rural communities. Co-operatives First continues to support many Indigenous entrepreneurial ventures, such as the Indigenous Technical Services Co-operative, and showcases rural and Northern co-operatives such as Amachewespemawin Co-operative in Saskatchewan in their Backroads Diaries vlog.
"The investment FCL and the Co-operative Retailing System have and continue to make in rural and Indigenous communities is unique in the co-op community – no one else has shown this kind of leadership," said Audra Krueger, Executive Director of Co-operatives First. "They should be very proud of what's being accomplished through this investment and the positive impact they're making in rural and Indigenous communities across Western Canada."
FCL and its member co-ops serve many diverse communities in Saskatchewan and Western Canada. While we have already taken steps toward more meaningful engagement with Indigenous communities, we know there is more work to be done and we look forward to future opportunities.