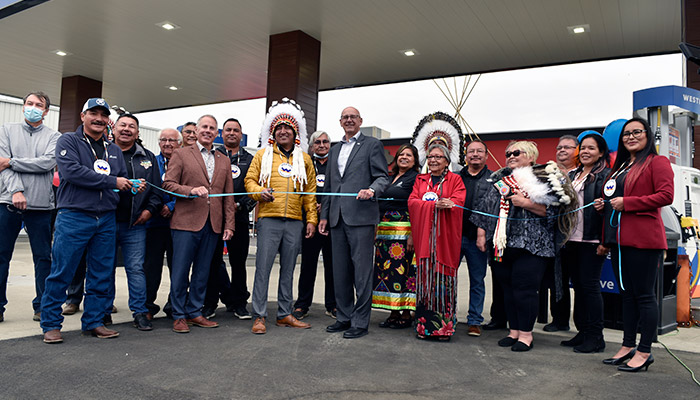 First Western Nations Gas Bar now open
August 23, 2021
The newly opened gas bar in Prince Albert, Sask., is a tale of two firsts – it's the first Western Nations-branded gas bar and the first urban gas bar owned by Sturgeon Lake First Nation.
"The Western Nations Gas Bar Program provides the opportunity for Co-op to develop mutually beneficial relationships built on shared values with Indigenous partners," said Scott Banda, CEO of Federated Co-operatives Limited (FCL). "Together, we're building long-term sustainable benefits for our members – both Co-op members and band members – and investing in communities across Western Canada."
Launched in January, Western Nations is a modern and unique brand for a growing network of independent, locally owned Indigenous gas bars across Western Canada that are fuelled by Co-op.
The Prince Albert location, operating as Tipi Fuel and Convenience Store, was established from a partnership between Lake Country Co-op and Sturgeon Lake Developments Ltd.
"It is important to partner with a like-minded organization," Chief Ermine of Sturgeon Lake First Nation said in a news release. "Although we could open a fuel station on our own, it is smarter to work alongside an organization experienced in the industry that shares similar community values and understands First Nation community beliefs. FCL and Lake Country Co-op have proven they are this partner."
Indigenous communities operating or developing gas bars benefit from the Western Nations brand through financial incentives, operational support, reliable local supplies, trusted fuel and the Community Building Assistance Program.
The Community Building Assistance Program provides funding for Indigenous communities to direct to community infrastructure, programming and events. The amount to be allocated is based on fuel sales.
"Community support is an important value of Lake Country Co-op and partnering with Sturgeon Lake Developments Ltd. to create a Western Nations branded fuel station in Prince Albert is a great investment for our communities," said Tim Keller, CEO of Lake Country Co-op.
"The Western Nations Gas Bar will create employment, career development opportunities and economic spin-offs in addition to providing access to numerous supports including the unique Community Building Assistance Program."
The new gas bar location will provide customers with high-quality products and services, including Top Tier certified gasoline, Co-op Premium Diesel, propane, lubricants, convenience store items and a Chester Fried Chicken offering.
Partnerships between local Co-ops and Indigenous communities continue to develop – which means more Western Nations Gas Bar openings, including one in Brandon, Man., are coming soon.