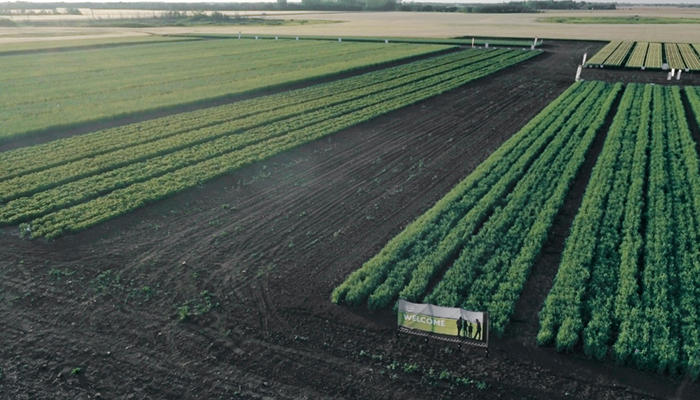 A field for sustainability
October 3, 2017
Take a short drive northwest of Saskatoon and you'll soon come across 15 acres of golden canola, wheat, soybeans and peas. Despite the pastoral setting, the educational signage may be your first indication that this isn't your typical farming operation. It's Co-op's Innovation Field Trial Xtreme.
Co-op's Innovation Field Trial Xtreme is a showcase of new technologies and innovations that help research responsible, sustainable solutions for growers.
"It's a multitude of field-scale experiments looking at different products, technologies and innovations, broken up into different blocks," said Trish Meyers, Knowledge and Innovation Manager with FCL's Crop Supplies Department.
In one block, the Co-op Grow Team is studying various canola hybrids to see how they perform in the field and how they respond to the application of fungicide. In another block, it's looking into how soybeans grow around Saskatoon, because it's a relatively new crop for many parts of Saskatchewan.
Bright idea
Co-op Agro Centres across Western Canada have been conducting field-scale trials with farmers for years, said Meyers. "In fact, this year we have over 80 of them, and when we were talking about trial protocols in the fall, the idea bubbled to the surface of having one great big innovation field trial – one big showcase site. That's really what the Xtreme site is – it's taking multiple field-scale trials and putting them in one spot."
The theme of one particular block is sustainability, said Meyers. "The definition of on-farm sustainability is implementing best-management practices that are mindful of the social, economic and environmental aspects related to agriculture."
Best practices
One such best management practice is 4R Nutrient Stewardship, which considers the right source, the right rate, the right time and the right place for fertilizer. It uses practices such as testing soil, banding fertilizer and applying enhanced efficiency fertilizers.
"The reason they're called enhanced efficiency fertilizers is they improve nutrient efficiency and minimize the risk of nutrient loss to the environment," said Meyers. "As part of 4R, under the sustainability umbrella, another best-management practice we're showcasing at the site is variable-rate fertilizer – acknowledging that every acre is different, and we want to ensure we've allocated our nutrient resources appropriately."
Agricultural technology and innovation are evolving at a rapid pace, and Meyers emphasizes the importance of staying current with the solutions, technologies and products available on the market or coming to market.
"We want to do right by our farm customers, and we want to be able to present to them the best options for their farm. Our Innovation field trials and Xtreme site not only give us a chance to see these things firsthand, but also to demonstrate on-farm solutions to farmers.
"If a grower can use best-management practices to be mindful of the social, economic and environmental aspects of the farm, to me, that's proof of sustainable production of safe, affordable and healthy food."