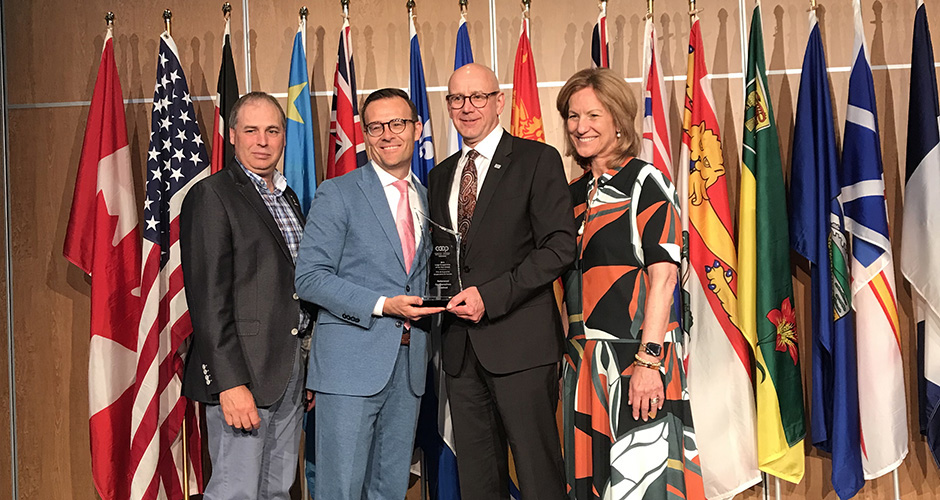 FCL recognized with Canadian co-operative award
June 20, 2019
Federated Co-operatives Limited (FCL) was honoured to be recognized as Large Co-operative of the Year by Co-operatives and Mutuals Canada (CMC) at its annual awards ceremony in Quebec City on June 19.
This distinction is even greater when considering there are about 8,000 co-operative and mutual businesses in the country, all working to develop sustainable businesses and improve the quality of life in their respective communities.
"We believe in our co-operative. We know it works and we've seen it work for over 90 years," said FCL CEO Scott Banda. "As an organization, if we can make a difference in members' lives, we can build sustainable communities together."
The Large Co-operative of the Year Award recognizes Canadian organizations that have made a significant contribution to co-operatives and mutuals in Canada and around the world.
FCL was recognized for its commitment to environmental sustainability, community investment, employee engagement, co-operative leadership and financial responsibility. In 2018, FCL returned $789 million to more than 170 independent local co-ops across Western Canada.
FCL's award was one of four presented at the awards ceremony by CMC, which helps support, promote and develop the co-operative economy in Canada.
"Tonight's laureates are being recognized for their co-operative leadership. These people and organizations have exemplary backgrounds and are true role models for people who want to get involved in the co-operative sector," Jim Bettcher, CMC Awards Committee chair, said in a release. "They embody the seven co-operative principles on a daily basis, and demonstrate an ethic based on honesty, transparency, social responsibility and altruism. Congratulations to these exceptional people and businesses."
Economic impact of co-operatives
During CMC's Congress 2019, Banda and a representative of Desjardins Group helped release the Study on the Economic Impact of the Co-operative Sector in Canada in 2015.
The CMC study found the co-operative sector contributes $61.2 billion, or 3.4 per cent, to Canada's gross domestic product every year. Sales, memberships and employment at co-operatives continue to increase, with more than 182,000 people employed at co-operatives across the country.
View the full report on at www.canada.coop.