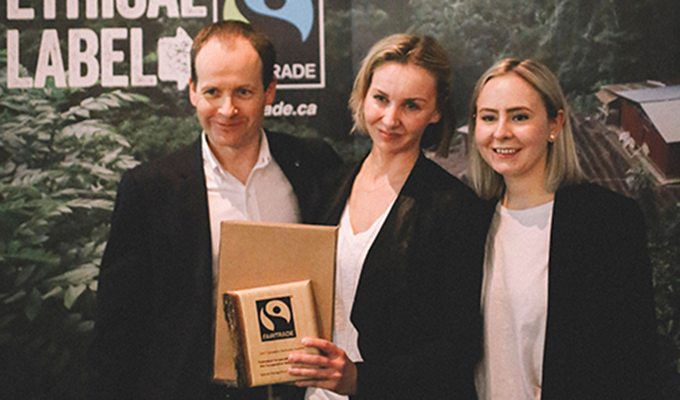 FCL gets recognition at Canadian Fairtrade Awards
April 3, 2018
Federated Co-operatives Limited (FCL) has been recognized as a Fairtrade Retailer All-Star at the recent Canadian Fairtrade Awards held on March 3, 2018, in Vancouver, B.C.
This special recognition is in celebration of FCL and the Co-operative Retailing System's ongoing support for fair trade in Canada through promotions that encourage consumer engagement during Fairtrade Month. The CRS was also recognized for expanding the amount of Fairtrade products at Co-op retails, including Co-op Gold Pure chocolate and Co-operative Coffee.
The recognition from a well-regarded organization such as Fairtrade Canada is meaningful. Fairtrade's goal is a world where farmers and workers get the best deal for their products and labour. Fairtrade Canada works to increase the presence of Fairtrade products in Canada and to promote the maximum benefit to farmers and workers.
"Supporting the local community is something that Co-op has always stood for, and we're in a position to do that on a much larger scale," said Sav Bellissimo, Store Brands Manager with FCL.
"It's very rewarding to work with local producers in Canada and around the world, and to see the positive effects that choosing fair trade products has on those communities."
By sourcing dozens of fair trade products in multiple categories, including coffee, hot beverages, baking, cereal and ice cream, as well as introducing fair trade products under the Co-op Gold store-brand label, Co-op is committed to furthering the vision of Fairtrade Canada.
FCL has won awards from Fairtrade Canada in previous years, including Grocery/Supermarket – Large national or regional chain in 2012 and 2013, Excellence in Merchandising in 2014 and 2016 and Retailer of the Year in 2015 and 2016.