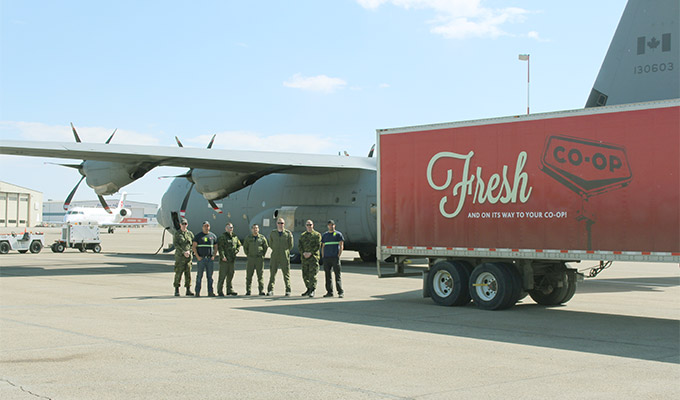 FCL and TGP help relief workers make special delivery
May 12, 2016
After wildfire forced tens of thousands of Fort McMurray residents from their homes last week, officials across Alberta went to work collecting supplies for evacuees.
Earlier this week, Federated Co-operatives Limited (FCL) and The Grocery People (TGP) answered a call from Alberta's Emergency Management Agency to prepare supplies for evacuees. They were on the tarmac at the Edmonton International Airport less than 16 hours later as supplies were loaded onto a Hercules military aircraft.
"We're here to help in any way that we can," said Albert Broyles, Warehouse Manager with TGP in Edmonton. "The people at every level of our organization are fantastic and I just knew that they'd make it happen."
On May 10, military personnel quickly unloaded supplies from two FCL/TGP trailers and, within minutes, they were ready to depart.
Co-operative effort
Co-ops across Western Canada have been contributing to wildfire relief initiatives, including Calgary Co-op, which has collected $181,000 from members and customers for the Canadian Red Cross.
In Boyle, Alta., a community that has welcomed many evacuees from Fort McMurray, North Corridor Co-op is collecting food, toiletries and other household items, while the co-op's Thorhild branch is collecting supplies for Edmonton Emergency Relief Services that will be distributed to other areas, including Lac La Biche, Conklin, Athabasca and Wandering River.
North Corridor, Central Alberta, Wadena and Valleyview Co-ops are all collecting donations from their members and customers to support the Canadian Red Cross. Each co-op will match the donations it collects up to a maximum of $5,000.
These contributions are in addition to Co-op's $100K donation to the Canadian Red Cross.
In other regions of Western Canada:
Alberta
Arrowwood Co-op has raised $1,291 to date from members and customers and is contributing an additional $1,000.

New Horizon Co-op raised $12,012 from the sale of car washes and Mother's Day cakes and is donating two pallets of water.

FCL's Edmonton Feed Plant donated 50 mini bulk bags that will be used to store donated items.

FCL Propane worked with Plamondon Co-op to donate more than 9,000 litres of propane to support relief efforts.
Saskatchewan
Hometown Co-op is holding a hot dog sale benefiting the Canadian Red Cross.
Manitoba
Gillam Co-op is donating funds from its "casual Friday" fundraiser to the Canadian Red Cross.

Portage Co-op is collecting $2 donations from members and customers and is planning a barbecue fundraiser.

Dauphin Co-op is collecting donations from members and customers.

Winkler Co-op donated a portion of its food sales — $10,000 — to the Canadian Red Cross.
British Columbia
Vanderhoof Co-op has raised more than $4,600 from members and customers to support the Canadian Red Cross. Last week, the co-op donated 792 litres of fuel.
Updates from more than a dozen other western Canadian co-ops are available below.