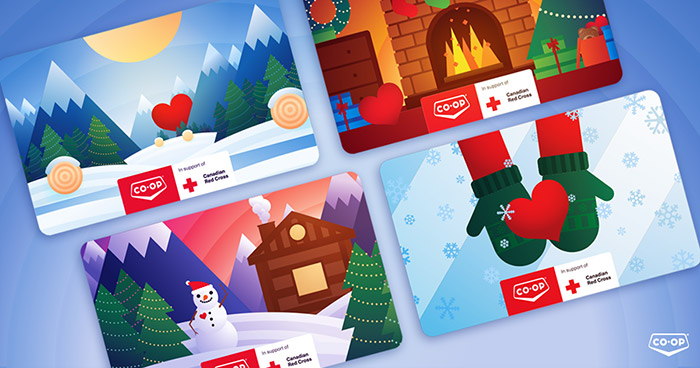 Co-op launches Give Card campaign to benefit Red Cross
November 6, 2018
New holiday-inspired gift cards launched today will help support local emergency relief efforts in communities across Western Canada.
Through the Co-op Give Card Campaign, Co-op will donate $1 from the sale of specially-marked gift cards to the Canadian Red Cross, up to a maximum of $250,000. The gift cards depict four seasonal designs and are available between Nov. 6 and Dec. 28.
"This campaign is unique in the ease for our members and customers to share and give in multiple ways this holiday season. It is truly a gift that gives," said Leah Andrew, Associate Vice-President of Customer Experience at Federated Co-operatives Limited (FCL).
The Co-op Give Card Campaign is part of a new five-year commitment between FCL, on behalf of more than 170 independent retail co-operatives across Western Canada that form the Co-operative Retailing System, and the Canadian Red Cross.
"We're renewing our commitment to the Canadian Red Cross because of the important role and impact they have in some of the most dire situations in our home communities," Andrew said.
As part of the renewed commitment, FCL will donate up to $1.5 million between 2018 and 2022 to be used to provide effective, community-based emergency responses.
"Canadians celebrate the holiday season by giving to their family and friends and giving back to their communities. Co-op is providing a meaningful opportunity to both donate and celebrate at this special time of year," said Conrad Sauvé, president and CEO of the Canadian Red Cross.
"Donations made possible by our renewed agreement with Co-op help to ensure that communities across the western provinces are more prepared for emergencies and receive the help they need when help is needed most, whether from floods, fires or other disasters."
In 2013, Co-op made a $1 million donation over five years, which were used in the Canadian Red Cross's response to fires and flooding across Western Canada, including the Fort McMurray wildfire in 2016.
The Canadian Red Cross also recently awarded FCL with a 2018 Partners in Humanity citation. This award recognizes individuals and organizations that make an impact at the national or international level, engage volunteers, enhance the reach of the Canadian Red Cross and promote the fundamental principles of the Red Cross Red Crescent Movement.
The new holiday-inspired gift cards are available at participating Co-op Food Stores, Co-op Convenience Stores/Gas Bars and Co-op Home Centres.