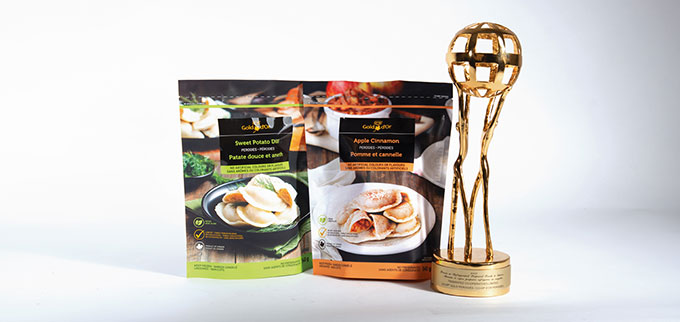 FCL wins fifth New Product Award
June 4, 2018
Putting an award-winning twist on the traditional has earned Federated Co-operatives Limited (FCL) a prestigious high five.
CO-OP® GOLD Perogies took the top honour in the Frozen or Refrigerated Prepared Foods and Entrees category at the Retail Council of Canada Canadian Grand Prix New Products Awards on May 30, 2018. This is the fifth new product award FCL has won in the last three years.
"Our Co-op members and customers have come to expect the best quality from our brand, and achieving this level of recognition for the exciting new products we've developed makes us proud to put them on our shelves," said Sav Bellissimo, FCL's Store Brands Manager. "I'd like to thank the Store Brands Team, the fabulous designers and all of the CRS for the continued support."
The winning perogies provide a modern take on an Eastern European traditional dumpling commonly found in every baba's kitchen on the Prairies. They are available in three innovative flavours: Chicken Paprika, Sweet Potato Dill and a dessert offering, Apple Cinnamon.
Other products that made it to this year's finalist round were CO-OP GOLD PURE® Smoked Maple Pepper Steelhead, Co-op Gold Pure White Truffle Mustard, Co-op Gold Cookies and Co-op Gold Pure Cold Pressed Juice.
The Retail Council of Canada organizes the awards, which celebrate advancement and excellence in new food industry products. Hand-selected volunteer judges from media, supplier and retail member sources are given specific criteria to evaluate each award. They focus on innovation, originality and consumer acceptance. 119 product finalists were evaluated, and 40 products received this award.
"This year's 25th Anniversary awards showcase the best of the best new grocery products from across Canada. It is exciting that outstanding products are being introduced by established manufacturers, new suppliers, as well as smaller boutique and family-owned retailers," said Diane J. Brisebois, President and CEO of Retail Council of Canada.
FCL has won this award for four products in the past two years:
2017 Awards: Co-op Gold Buttercrunch Toffee Chocolate (private-label confectionary and shelf stable desserts) and Co-op Gold Sorbetto (private-label desserts: fresh, refrigerated or frozen)

2016 Awards: Co-op Gold Caramel Whisky Sauce (private-label condiments and sauces) and Co-op Gold Pure Dark Chocolate (private-label sweet snack).
A complete list of finalists is available at rccgrandprix.ca.