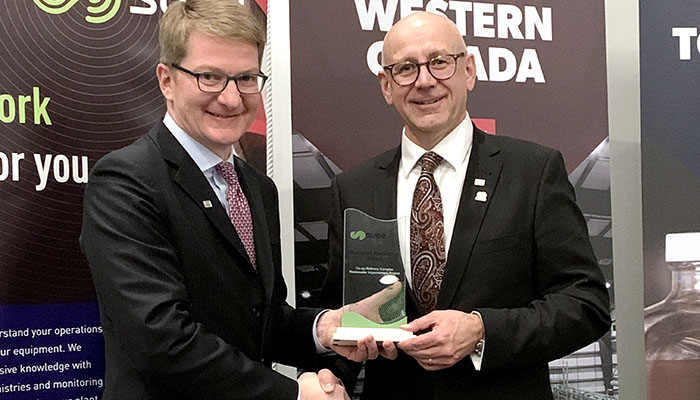 The CRC receives Resource Revolution Award
January 31, 2019
The Co-op Refinery Complex's (CRC) Wastewater Improvement Project (WIP) has once again been singled out for environmental excellence at a special reception in Regina on Jan. 30.
The project received SUEZ Water Technologies and Solutions' Resource Revolution Award. The award honours industrial projects that demonstrate exceptional financial and industrial benefits, while improving sustainability and increasing resource reuse.
"Water is critical to our day-to-day operations at the refinery and is a vital resource for the Western Canadian economy," said Federated Co-operatives Limited (FCL) CEO Scott Banda. "It is an honour to be recognized by SUEZ for our focus on responsible and sustainable business practices. The WIP represents our commitment to preserving precious water resources, while addressing our water needs in a sustainable way. This benefits our environment and our communities."
The CRC strives to be a leader in environmental compliance and works with industry partners – such as SUEZ, a world leader in smart and sustainable resource management – to maintain and set new standards. The WIP has furthered that goal.
The $200-million investment gives the CRC the capability of reusing its wastewater for the purpose of steam production. The project reduces the CRC's freshwater consumption by 28 per cent, which is the equivalent of 3,100 households in Regina.
"The CRC project is truly forward-thinking — the first refinery in North America with the capability to reuse 100 per cent of its wastewater on site," said Kevin Cassidy, global leader of engineered systems for SUEZ Water Technologies and Solutions. "Honouring this project, and the team behind it, is an easy decision."
Since its inception in 2016, the environmental mega-project has become an award-winning and industry-leading initiative fueled by CRC's commitment to sustainability and environmental stewardship.