Sustainability efforts reach new heights at CRC
December 5, 2018
The Co-op Refinery Complex (CRC) installed a significant new piece of equipment on Nov. 29, a gasoline desulphurization splitter (GDS) column. Once erected, the 15-storey tall column will be the tallest vessel at the refinery and one of the tallest structures on site. The column is a major part of a $140 million project that will reduce the amount of sulphur in gasoline produced at the CRC.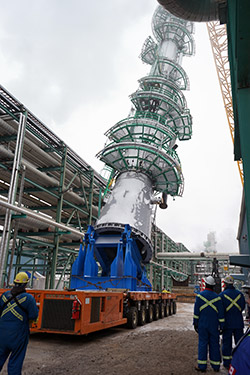 "At CRC, our vision is to be a recognized industry leader in safety, reliability and sustainability. The CRC is focused on responsible and innovative business practices, and on ensuring we are compliant with industry standards and regulations," said Gil Le Dressay, Vice-President of Refinery Operations.
"The GDS column will further the CRC's commitment to environmental sustainability and continue to help us position our operation as a recognized leader within the petroleum-refining industry."
New federal regulations will come into effect on Jan. 1, 2020, and the column will help ensure the CRC has sustainable low-sulphur gasoline blending in place to meet these new regulations. The new vessel will enable the CRC to achieve Tier III, ultra-low sulphur gasoline specifications and to produce fuel with higher octane levels compared to what is currently produced.
Since its delivery in mid-September, teams have worked safely and efficiently to ensure the 50-metre, 120,000-kilogram (167-feet, 265,000-pound) vessel would be fully operational.
"Above all else, this is an initiative that builds on our commitment to excellence," said Le Dressay. "From our valued partners across Western Canada who built and transported the vessel, to the exceptional efforts of our CRC team, it is our co-operative spirit that contributes to the strength and sustainability of our operation."
This major project represents only a portion of the CRC's annual capital spending. In 2019, the CRC will spend approximately $250 million on capital investments, creating jobs and economic activity for the city and the province.
The CRC strives to be a leader in environmental compliance and works with industry partners to maintain and set new standards. Learn more about FCL's sustainability efforts.