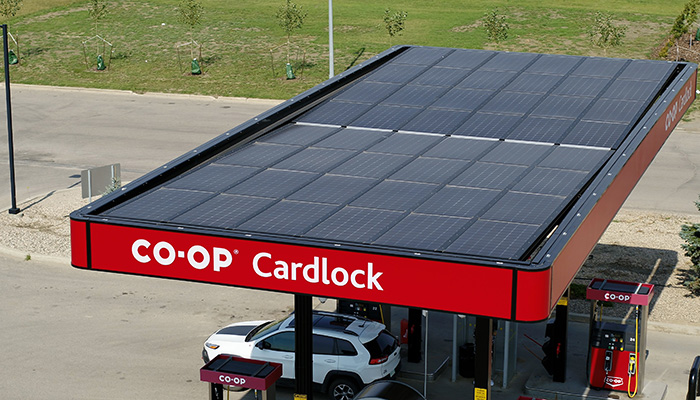 Shining light on Co-op canopies
September 17, 2021
The next time you fill up at your local Co-op Gas Bar, look up. Canopies above gas bars typically constructed from wood, steel and sheet metal provide lighting and protect equipment, drivers and Co-op team members from the likes of sun, snow, rain and hail.
However, Federated Co-operatives Limited (FCL) has developed a new canopy constructed of 48 photovoltaic panels as part of a new pilot project.
"We wanted to find a solution to smartly integrate renewable energy into Co-op facilities," said Chris James, FCL's Manager of Engineering Technology and Design.
"Renewable power and sustainable facility design are part of the Co-operative Retailing System Sustainability Strategy, which is helping guide our transition to a sustainable, low-carbon economy."
James began to champion the use of solar panels after seeing a canopy over a parking lot in Edmonton and seeing similar gas bar concepts in the United States. Even still, he admits it remains a niche, innovative project.
Studying a new standard
The solar-panel canopy has recently been installed at the Co-op Cardlock location operated by FCL on Turvey Road in Regina. As part of a one-year pilot, the panels will be feeding into the electrical grid to offset power costs for FCL's building next door.
"We wanted to use FCL as a guinea pig first this time, go through the process and identify any pain points before going to a local Co-op to test the concept," said Mark Becker, project manager in FCL's Facilities Design and Development Department.
"Instead of just adding solar panels onto the canopy at an additional cost, the panels are used as the roof of the canopy at a reduced cost."
The photovoltaic panels are estimated to produce up to 20 megawatt hours of electricity – enough to power two homes – by collecting the sun's rays on both sides, collecting reflections off the concrete beneath the canopy.
"This is more of a template to see how the panels work and figure out how we can use them in the future," Becker explained. "The whole point of the pilot is to ensure we're happy with the performance, but we'd like to see this become a standard in the future."
Most but not all of the 400 Co-op Gas Bars and more than 380 Co-op Cardlock locations across Western Canada have a canopy installed.