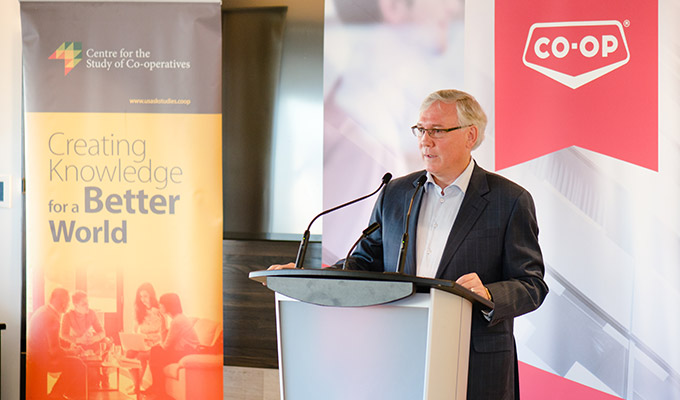 Funding a new first
September 12, 2016
The co-op model remains feasible in rural and aboriginal communities, but needs vigorous co-op development locally and focused efforts across provincial boundaries.
These findings of the two-year, FCL-funded Co-operative Innovation Project (CIP) encouraged funding the next phrase. In January 2016, FCL announced a five-year, $5 million commitment to establish Co-operatives First, an organization designed to inspire co-operative development.
A portion of the $5 million in start-up funding will be used for resources to offset some of the costs associated with starting a co-operative. Those funds will help new organizations attain the legal and professional services required to form a new cooperative, as well as develop communications and business plans and conduct feasibility studies.
Project results
As a non-profit, Co-operatives First will work with small- to mid-size rural communities, as well as with aboriginal communities, to identify innovative, community-led solutions to modern challenges and opportunities. The top needs found through the research project included healthcare, housing, transportation and retail.
The project also found knowledge of the co-op model is weak, with people seeing co-ops as a specific organization as opposed to a solution. The CIP found rural and aboriginal communities are receptive to locally driven solutions, but needed assistance getting started.
According to the report, current co-operative development in rural and aboriginal communities:
Doesn't inspire innovative co-operative solutions;
Requires capacity, knowledge and empowerment to explore if a co-op is the right solution;
Has limited financial and technical support to create robust and sustainable co-ops; and
Lacks co-ordination to help co-ops thrive.
Next steps
A board of directors has been established for Cooperatives First, which has attained non-profit status. An executive director was hired in June 2016, who will arrange for more staff and lead activities. One initial objective for the organization includes hosting Community Inspire events and community-led conversations across Western Canada to identify opportunities for development and collaboration.