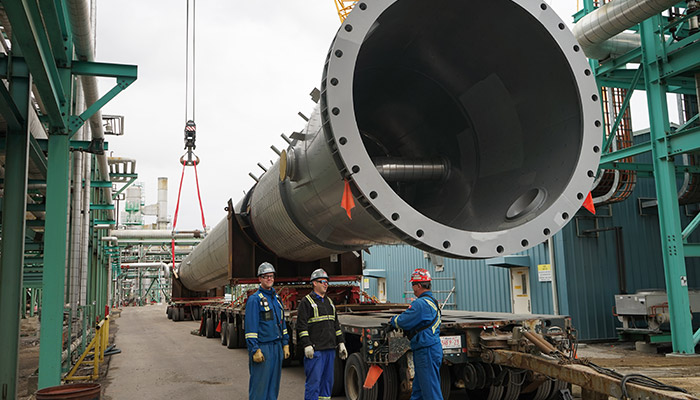 Fuelling a sustainable tomorrow
October 2, 2019
The Co-op Refinery Complex (CRC) believes that being an industry leader means making smart choices about our environmental stewardship. In the last year, we've focused on reducing the impact of sulphur in the refining process and the gasoline and diesel fuels we produce.
Capturing emissions
Sulphur is a byproduct of the refining process. We capture it at different points throughout the refinery, process it into a liquid and deliver it to customers by rail for use in fertilizer and other chemicals. Five years ago, we began the process to improve sulphur quality while reducing hydrogen sulphide (H2S) emissions.
A critical part of this was the installation of new equipment in our sulphur plant. The upgrades include the ability to now capture emissions when loading liquid sulphur into railcars. The $17.5 million investment will result in H2S and polysulphide emissions below 10 parts per million by weight, a reduction of 97 per cent.
"At the CRC, our vision is to be a recognized industry leader in safety, reliability and sustainability," said Gil Le Dressay, Vice-President of Refinery Operations. "The CRC is focused on responsible and innovative business practices and on ensuring we are compliant with industry standards and regulations."
Investing in infrastructure
In addition to this degasification project, we're building two new liquid sulphur tanks. The tanks will be 20 per cent larger, which will provide more storage and minimize potential disruptions for sulphur loading and delivery when one is offline because of inspections and maintenance. We invested an estimated $27.5 million in this project in late 2016. The tanks are expected to be operational in 2020.
In late 2018, we installed another significant new piece of equipment – a gasoline desulphurization splitter (GDS) column. The 15-storey column is a major part of a $140-million project that will help us achieve ultra-low sulphur gasoline specifications, which will help produce fuel with higher octane levels compared to what is currently produced and reduce sulphur emissions into the atmosphere.
Benefiting our community
"These projects further the CRC's commitment to environmental sustainability and continue to help us position our operation as a recognized leader within the petroleum-refining industry," Le Dressay said.
Not only will these efforts help us to better manage sulphur, they'll also work in concert with our Wastewater Improvement Project to significantly reduce the nuisance odours that our residential and industrial neighbours in Regina can sometimes smell. In addition to odour reduction, the project will also reduce the hazards associated with liquid sulphur at the CRC. These projects at the CRC are building on our commitment to undertaking sustainable projects that benefit the environment and communities for generations to come.