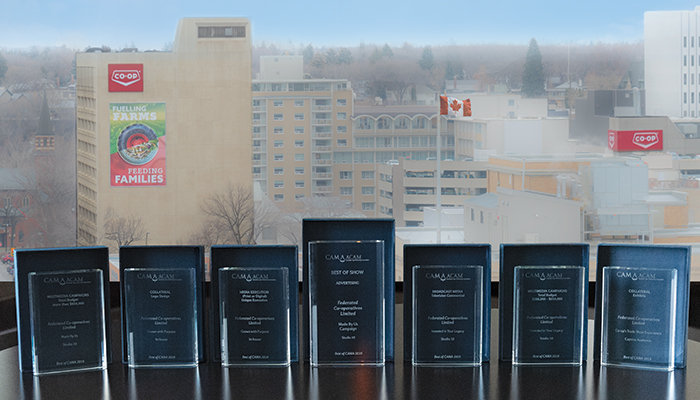 FCL takes home seven Best of CAMA awards
November 29, 2019
Federated Co-operatives Limited (FCL) has won seven awards, including Best of Show, for marketing campaigns focused on helping local producers grow their business and feed families at the Best of CAMA gala in London, Ont.
CAMA, or the Canadian Agri-Marketing Association, recognizes industry-leading marketing and communications materials each year.
"When these awards are judged, equal weighting is given to strategy, creative execution and the results. Each of these awards are a tremendous achievement for Co-op, demonstrating our ability to strike the right balance of pairing solid strategy with inspired copy and absolutely killer creative," said Rochelle Mansiere, Marketing Manager at FCL.
These campaigns – including Invested in Your Legacy, Made by Us and Grown with Purpose as well as a new Agro tradeshow experience – were nominated in nine categories. On Nov. 14, FCL took home six of the nine awards it was nominated for, plus the prestigious Best of Show Award:
Best of Show - Advertising
Multimedia Campaign with total budget of more than $650,000
Multimedia Campaign with total budget of $200,000–$650,000
Broadcast Media - Television Commercial
Media Execution Print or Digital - Unique Execution
Collateral - Logo Design
Collateral - Exhibit
FCL was also a finalist in the New Product Launch category, the Ad Campaign directed at the General Public category and the Billboard category.
FCL was shortlisted for the awards alongside industry peers such as Bayer, Nutrien, Farm Credit Canada and Pioneer Hi-Bred Limited.