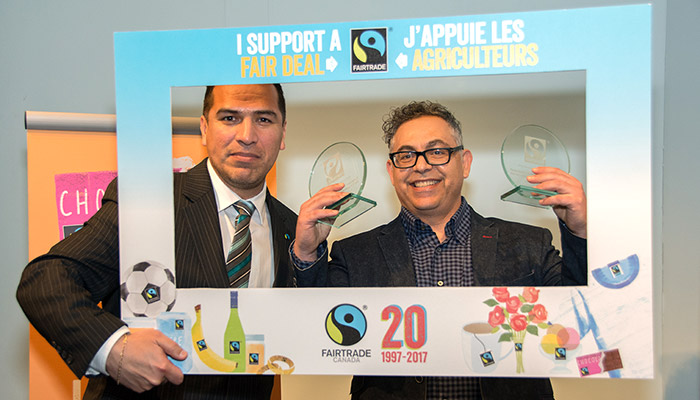 FCL repeats as Fairtrade Retailer of the Year
March 9, 2017
Federated Co-operatives Limited (FCL) is receiving national recognition for providing Co-op members and customers with products they can be confident in.
FCL took home the awards for Retailer of the Year and Merchandising Event of the Year at the Feb. 25 Canadian Fairtrade Awards, which celebrate organizations committed to sustainably and ethically produced products.
"High-quality food products with a positive story; that's definitely a Co-op thing," said Sav Bellissimo, Store Brands Manager with Federated Co-operatives Limited, which delivers goods to Co-op Food Stores across Western Canada.
"That's why we continue to expand our selection of fair trade products, which includes coffee, chocolate and ice cream. At Co-op, we're proud to provide items that support farmers and communities at home and across the globe."

FCL accepted the award on behalf the Co-operative Retailing System (CRS), which consists of FCL and more than 190 independent retail co-operatives that operate 295 Co-op Food Stores.
Ongoing commitment
This is the second year in a row that FCL has received the Retailer of the Year Award from Fairtrade Canada, a non-profit organization that provides certification for fair trade products.
Fairtrade certification is given to products that are responsibly produced and provide fair compensation to farmers while promoting sustainable agriculture and employing ethical labour practices.
Dozens of Fairtrade products are available at Co-op Food Stores, including new Co-operative Coffee products introduced in 2016.
In May, FCL and the entire CRS celebrated Fairtrade Month through in-store displays and signage as well as features on coopfood.ca and in the Co-op food flyer.