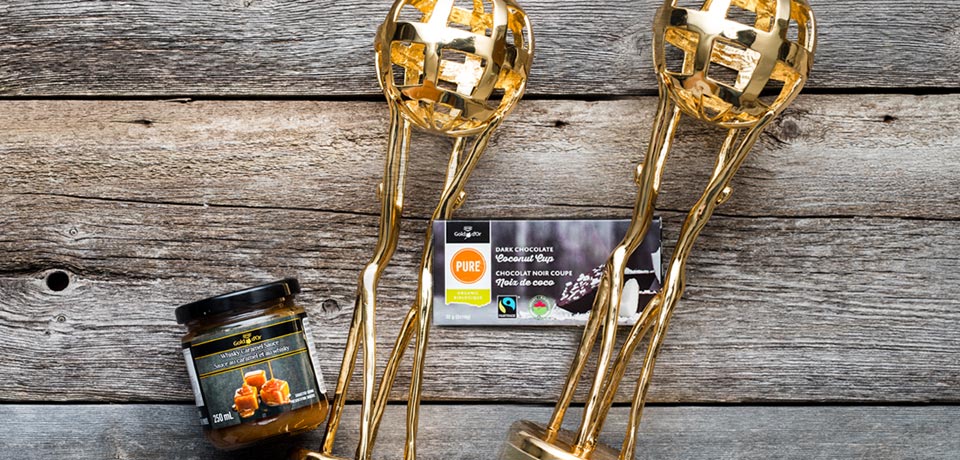 FCL nets national awards for new products
June 3, 2016
Nothing may be quite as sweet as your first national award for best new product, except for the second award and the winning products themselves.
Federated Co-operatives Limited (FCL) won its first and second Canadian Grand Prix New Product Award for the CO-OP® GOLD Caramel Whisky Sauce (private-label condiments and sauces) and CO-OP GOLD PURE® Dark Chocolate (private-label sweet snack) it launched in 2015.
"It's always great to be recognized for developing innovative products, especially among your peers," said Sav Bellissimo, Store Brands Manager with Federated Co-operatives Limited. "This is just incentive to continue creating industry-leading products to bring new experiences to our customers."
Bellissimo thanked the team at FCL as well as supplier and packaging partners for their efforts in bringing these products to fruition.
The awards, organized by the Retail Council of Canada, have been celebrating innovative new products now for 23 years. A judging panel comprised of consumers, food journalists, packaging designers and marketing executives considered 93 eligible products. Of these, 34 went on to win awards at the June 1 gala.
"Winning a Canadian Grand Prix award is a milestone achievement that represents Canada's very best in product innovation and consumer ingenuity," said Diane J. Brisebois, President and CEO of Retail Council of Canada in a release. "Standing out on crowded store shelves is no easy task. It requires a product that ticks off all the boxes, including superior production, design, marketing, sales and distribution. Most importantly, a truly award-winning product must meet the needs – and pocketbooks – of today's demanding shopper."
Co-op Gold Aioli, Co-op Gold Pure Wagyu Beef Burger and Co-op Gold Pure Granola were also finalists for the awards.
FCL has been a finalist the past two years:
2014 Awards: Co-op Gold Trail Mix and Co-op Gold Cookies

2013 Awards: Co-op Gold Saskatoon Berry Premium Ice Cream and Co-op Gold Strawberry, Yogurt and Banana Smoothie
Winning products
The caramel sauce with whisky is far from ordinary. The sauce is buttery and decadent with subtle and smooth notes of whisky that add to its provocative charm. Incredibly versatile, the product is amazing when drizzled over vanilla ice cream, warmed in apple crisp, smothered over a chocolate brownie or eaten simply by the spoonful.
Chocolate doesn't have to be a sinful indulgence when it uses fair trade and organic ingredients. The Co-op Gold Pure Dark Chocolate, including coconut cup and peanut butter cup varieties, is simple and rich, with both quality chocolate and complementary flavours that are yours to savour.