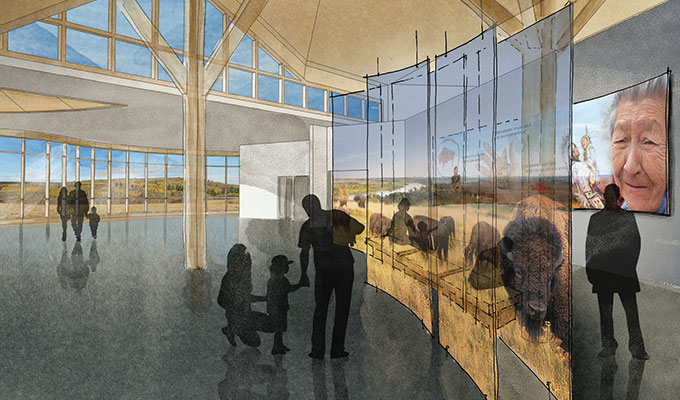 Co-op makes first major donation to Wanuskewin renewal campaign
February 23, 2017
Wanuskewin Heritage Park's recently announced $40-million Thundering Ahead Capital Campaign has received its first major donation.
Federated Co-operatives Limited (FCL) is making a $1 million commitment to the campaign.
"Federated Co-operatives Limited is pleased to announce a contribution of $1 million to the Thundering Ahead Capital Campaign on behalf of the Co-operative Retailing System," said FCL CEO Scott Banda. "This renewal represents an opportunity to engage in meaningful reconciliation. Our Co-op's home is Western Canada and we are honoured to be part of ensuring that the epic story of Wanuskewin is told and experienced for generations."
The donation will support Wanuskewin's bold renewal vision, which includes a new exhibit at the park to be called Wanuskewin: A Gathering Place presented by Federated Co-operatives Limited on behalf of Western Canada's Co-operative Retailing System (CRS). The interactive exhibit will blend personal stories and Wanuskewin's significance to culture, education and science. It will also provide breathtaking images of running bison and learning on their connection to Indigenous culture, history and ecology.
"Wanuskewin Heritage Park is thrilled that Federated Co-operatives Limited has come on board in such a tangible way," said Candace Wasacase-Lafferty, Chair of Wanuskewin's Board of Directors. "We are so grateful for the commitment of Federated Co-operatives Limited to Wanuskewin and our shared future."
Plans are underway to apply for UNESCO World Heritage designation, introduce exhibit galleries and improve educational offerings, expand the current facility to accommodate larger conferences and meeting groups, renovate the nearly 25-year-old interpretive centre, preserve ecology and biodiversity on the site and expand the land base to accommodate a small herd of Plains bison.
"Education is important to us, and important to Federated Co-operatives Limited," said Tribal Chief Felix Thomas, co-chair of the Thundering Ahead Campaign and Tribal Chief of the Saskatoon Tribal Council. "In addition to engaging his team in this project, Scott has been a contributing member to our volunteer team, and a pleasure to work with."
On Feb. 9, Wanuskewin launched plans for a $40-million capital campaign to fund a bold renewal based on four pillars:
To elevate Wanuskewin from the longest-running archaeological project in Canada to an international centre for excellence in education, preservation and interpretation of Indigenous art and culture.
To aspire to world heritage designation through UNESCO, building on Wanuskewin's existing status as a National Historic Site.
To preserve the ecological island that is Opimihaw Valley and protect the unique ecology and biodiversity of the land as Wanuskewin transitions into an iconic urban park.
To return the majestic bison to Wanuskewin's plains.