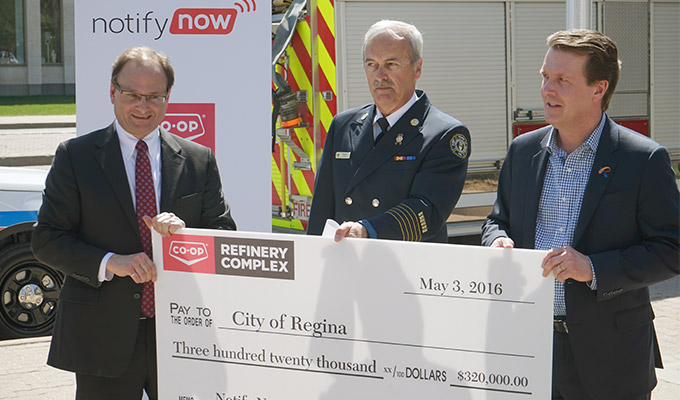 Co-op Refinery Complex supports "notifynow"
May 3, 2016
The City of Regina has launched a mass notification system called "notifynow." Residents and businesses are encouraged to learn more about the system and sign up at Regina.ca/notifynow.
The notifynow system is versatile and can provide city-wide notifications for emergency events such as the 2015 water conservation issue, severe weather warnings or more targeted messages for neighbourhood-specific evacuations.
The City has received a donation of $320,000 from the Co-op Refinery Complex to cover purchase and maintenance costs for the system. The donation is to be phased over five years.
"Emergencies can happen at any time and it can be a challenge to get important messages to residents. This system will allow us to advise residents quickly so they can make effective and timely decisions for themselves and their loved ones," said Mayor Michael Fougere. "I extend my gratitude to the Co-op Refinery Complex for their generous donation and commitment to the safety of our community."
With this donation from the Co-op Refinery Complex, the City is better prepared to manage emergencies that arise in our community.
"Emergency preparedness is key for any type of organization or community," said Gilbert Le Dressay, Vice-President of Refinery Operations. "We call the city of Regina home, our employees live, work and contribute to our local economy. We are proud to make an investment that is not only important to our employees but to the community that has been supportive of us for more than 80 years."
To be prepared for any type of emergency, it is important to have an effective plan in place. Having a mass notification system available is simply another tool at the City's disposal to help keep residents safe. This system will not replace other tools and processes; rather, it enhances the city's emergency preparedness.
The City of Regina will test the system twice a year. The first test message will be sent out on Wednesday, June 1. Residents are encouraged to sign up by then to see firsthand how the system works.
The City of Saskatoon has also implemented this system. The two cities are sharing the brand name notifynow for the system in order to create greater public awareness and recognition for both cities.
The mass notification system is run through a third party. Everbridge was selected through the competitive RFP process because their mass notification system best suits the current needs of Regina. The system allows residents to sign up for emergency notifications by text message, email or phone call.
For more information, visit Regina.ca.