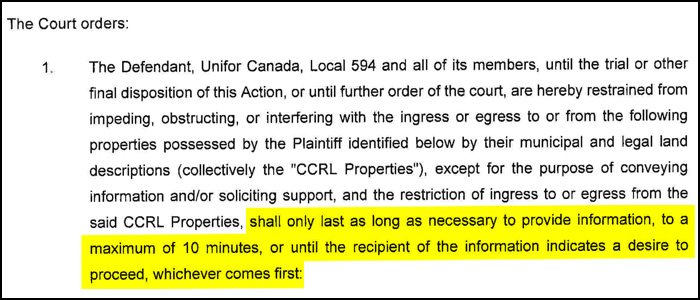 CRC injunction provides clear direction on picketing
December 31, 2019
The Co-op Refinery Complex (CRC) has received an injunction against Unifor effective Dec. 24, 2019. The company is pleased with this ruling as it means Unifor picketers should no longer be able to cause long delays in the movement of people, parts and equipment necessary to ensure the safe and reliable operation of the refinery.
In her ruling, Justice McMurtry made it clear that Unifor picketers can only restrict access to CRC property for a maximum of 10 minutes, or more importantly, until the recipient of the information indicates they wish to proceed. This means that if the driver of a vehicle does not wish to receive information, they can decline the picketers' information and must be allowed to proceed immediately and not made to wait. This injunction applies to all movement of traffic in out of the refinery and not just Co-op fuel trucks.
The granting of an injunction reaffirms the validity of the concerns expressed by the CRC with regards to illegal picketing activity that has taken place during the strike. The CRC expects that Unifor will be respectful of the Justice's ruling.