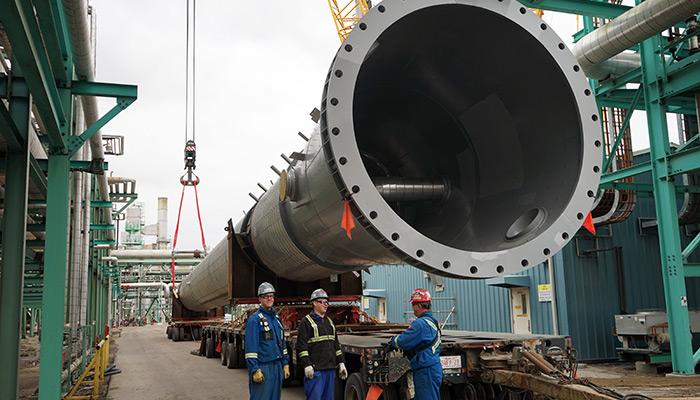 Fifteen-storey vessel travels more than 800 km to Regina
September 26, 2018
The newest member of the Co-op Refinery Complex (CRC) has officially arrived.
After a two-day journey from Edmonton to Regina, a 167-foot long, 265,000-pound vessel arrived at the CRC on Sept. 18 around 6:15 a.m. The vessel's length is almost equivalent to a 15-storey building.
Once the gasoline desulphurization (GDS) splitter column is erected, it will be the tallest freestanding vessel at the CRC. It will play a key role in the CRC's ability to achieve Tier III, ultra-low sulphur gasoline specifications and produce fuel with higher octane levels than current products.
"We are focused on responsible and innovative business practices that continue to position the CRC as a recognized leader in reliability within the petroleum-refining industry," said Loren White, Manager of Major Projects.
"The new GDS splitter column is an initiative that builds on that commitment to excellence. From our valued partners across Western Canada to our exceptional workforce, thank you to everyone involved for helping us contribute to the strength and success of our operation."
The initiative is a prime example of the co-operative spirit that drives both Federated Co-operatives Limited and its people. The splitter column was manufactured at Dacro Inc. Industries in Edmonton and was transported to the CRC by Richards Transport Ltd. in Regina.
At the site level, employees rallied together to help position the CRC for the future. A sincere thank you goes out to Carey Markewich, Construction Supervisor of Major Projects, and Jay Lane, Project Manager of Major Projects, whose efforts ensured the structure was moved safely and efficiently.
The new GDS splitter column is slated to be fully operational by the end of 2018.
UPDATE: A previous version of this article identified the vessel's length as being equivalent to a 12-storey building.